About Host Organization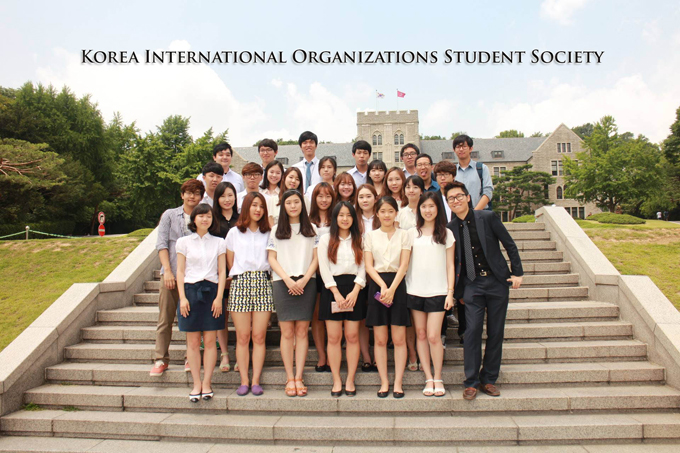 Korea International Organizations Student Society (KIOSS) is a student-led nonprofit organization affiliated with Korea University Division of International Studies (KUDIS). Established in 2007, KIOSS has been serving as the forum for all students interested in international organizations and various international issues. KIOSS has also been fulfilling its initial purpose of organizing the secretariat of Korea Model United Nations. As part of the Division's effort to support student-led activities, KIOSS is provided with the venue for its academic activities and advice by its advisory professor Professor Suh-Young Chung, who is also helping shape its direction.

KIOSS is involved in community building through various volunteer programs. The KIOSS Youth Mentoring Program educates the youth on international issues by introducing collegiate majors and conducting an MUN session in double delegation with the KIOSS mentors. Furthermore, KIOSS Fundraising for awareness on poverty, inequality, and disaster relief is organized twice a year, to foster students' understanding and committment to international development.
Members of KIOSS are also academically motivated, and organize academic seminars on International Organizations and international issues. With the departments of Academic Affairs, Public Affairs, and External Affairs, Korea International Organizations Student Society aims not only for academic achievement but also acting to make a difference.
고려대학교 모의유엔회의 주최기관
고려대학교 국제기구학회는 고려대학교 국제학부 소속의 학생자치 비영리단체입니다. 2007년에 처음 만들어진 고려대학교 국제기구학회는 국제학부 학생들뿐 아니라 국제기구 및 국제이슈에 대해 관심 있는 교내 학생들이 모여 공부하고 토론할 교류의 장을 마련하고, 고려대학교 캠퍼스 내에서 주최되는 세계적 학술활동인 모의유엔을 조직할 사무국을 양성할 목적으로 그 활동의 맥을 이어오고 있습니다. 학생자치활동을 장려하는 국제학부의 노력의 일환으로 학회는 매주 활동을 진행할 공간을 국제학부로부터 제공받고 있으며, 국제학부 내에서 국제법을 담당하고 있는 정서용 교수님께서 지도교수로서 학생활동의 방향을 제시하고 여러 방면에서의 자문을 해주시고 계십니다.

고려대학교 국제기구학회는 국내외 모의유엔대회에서의 다양한 수상 실적을 보유하고 있을 뿐 아니라 모의유엔을 직접 개최하여 고등학생과 대학생을 대상으로 국제적 이슈에 대한 다양한 논의를 장려하고 있습니다. 또한, 고려대학교 내에서 국제학부 학생들뿐만 아니라 타 전공 학생들에게도 국제학을 접해볼 기회를 제공함으로써 수적으로도, 질적으로도 계속적인 성장을 거듭하고 있습니다. 지도교수님의 비전을 따라 "찾아가는 학회"가 아닌 "찾아오는 학회"가 되기 위해 세계적 흐름을 꿰뚫는 안목을 기르고, 다양한 학술활동을 통해 국제학 공부의 중심으로 거듭나기 위한 노력을 계속하고 있습니다.